Kingdom Hearts Birth by Sleep
Stickers Guide
Each character has a set of stickers to find in every world. Once collected, they need to be stuck on the picture to get points and rewards.
You can put them anywhere, but each sticker has a 'good area' that gives more points. A well placed sticker gives 7 points (instead of 5) and makes a distinctive sound.
Follow this guide to learn every sticker location and where to place them on the picture.
Terra
Terra's stickers locations
World
Area
How to reach
Advanced command(s) needed
Enchanted Dominion
Forest Clearing
-
-
Audience Chamber
From the stairs, jump and Air Slide right ahead
High Jump, Air Slide, Sonic Impact
Tower Room
-
-
Castle of Dreams
The Chateau
-
-
Passage
-
High Jump
Dwarf Woodlands
Underground Waterway
Open the first gate, then from the opening next to the second handle, Air Slide towards the sticker
Air Slide max level
Flower Glade
-
-
The Mysterious Tower
Sorcerer's Chamber
-
High Jump
Radiant Garden
Central Square
-
High Jump
Fountain Court
From the second platform, Air Slide + Sonic Impact to reach the sticker
High Jump, Air Slide, Sonic Impact
Outer Gardens
-
High Jump
Disney Town
Raceway
Exit to the Raceway from Pete's Rec Room pinball. Jump on the crates, aim at the blue walls at the other side of the area, then High Jump, Air Slide + Sonic Impact twice to reach the platform.
High Jump, Air Slide, Sonic Impact
Gizmo Gallery
From the second Mickey-shaped cog, Air Slide to reach the sticker.
Air Slide
Olympus Coliseum
Coliseum Gates
The sticker is behind the pillar on the right.
High Jump
Deep Space
Turo Prison Block
You can either jump down the platform above it, or Air Slide from the opposite one
High Jump, Air Slide
Ship Corridor
-
High Jump
Never Land
Skull Rock: Entrance
Jump on the high platforms, go to the Cavern from the entrance at the top, then Air Slide + Sonic Impact to the other platform. The sticker is right there when you exit.
High Jump, Air Slide, Sonic Impact
Peter's Hideout
-
-
Rainbow Falls: Base
From the highest platform (which isn't really high at this point), Air Slide + Sonic Impact towards the sticker.
High Jump, Air Slide, Sonic Impact
Keyblade Graveyard
Twister Trench
-
High Jump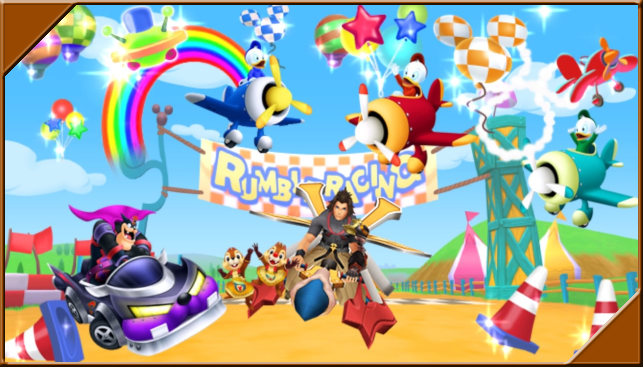 Terra's stickers collection rewards

| Reward | Type | Points |
| --- | --- | --- |
| Pulsing Crystal | Item | 20 |
| Fireworks | Command | 40 |
| Limit Storm | Command | 70 |
| Sonic Blade | Command | 110 |
| Rhythm Mixer | Command Form | 140 |
Ventus
Ventus' stickers locations
World
Area
How to reach
Advanced command(s) needed
Dwarf Woodlands
Mine Entrance
-
-
Cottage Clearing
Jump on the stump then towards the sticker while hitting the air with your Keyblade.
-
Castle of Dreams
Cinderella's Room
Use the yarn ball to go on top of the chair, then jump on the dresser.
-
Mousehole
From where the cheese is stuck in the cobweb, jump down and use a well-timed Sliding Dash to reach this sticker.
-
Enchanted Dominion
Audience Chamber
From the top of the stairs, High Jump + Glide/Superglide to reach it.
-
Hall
From the hall entrance, follow this: right (blue teleporter), orange teleporter, Dungeon, fall down then use the stairs on your right, wait for the purple teleporter. There, you will find the sticker and you just have to jump to reach it.
-
Radiant Garden
Gardens
-
-
Front Door
-
High Jump
Fountain Court
From the platform closest to the sticker, jump then hit the air, or use Sliding Dash
-
Disney Town
Gizmo Gallery
Use the Mickey-shaped cog then jump on the four hands on the right to reach this sticker.
-
Pete's Rec Room
Use the giant pinball to reach the platform on the right, near the ceiling, where the sticker is.
-
Raceway
Exit from Pete's Rec Room and jump down.
-
Olympus Coliseum
Coliseum Gates
-
-
Deep Space
Ship Hub
Turn off the gravity with the computer and jump from the top to the middle of the room.
-
Launch Deck
Turn off the gravity with the computer and jump on the crates to reach the sticker.
-
Never Land
Rainbow Falls: Base
Use a Sliding Dash.
High Jump
Mermaid Lagoon
From the little island with the chest, double Air Slide.
Air Slide
The Mysterious Tower
Mysterious Tower
-
-
Keyblade Graveyard
Seat of War
-
High Jump
Twister Trench
-
High Jump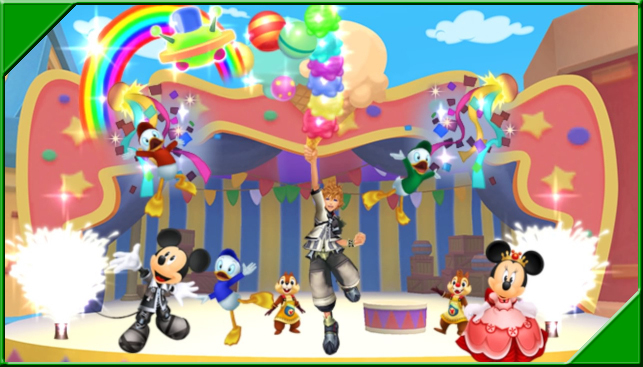 Ventus' stickers collection rewards

| Reward | Type | Points |
| --- | --- | --- |
| Wellspring Crystal | Item | 20 |
| Fireworks | Command | 40 |
| Collision Magnet | Command | 70 |
| Salvation | Command | 110 |
| Rhythm Mixer | Command Form | 140 |
Aqua
Aqua's stickers locations
World
Area
How to reach
Advanced command(s) needed
Castle of Dreams
Palace Courtyard
-
High Jump
Dwarf Woodlands
Courtyard
Go through the arch, it's a bit hidden.
-
Vault
-
High Jump, Air Slide
Enchanted Dominion
Dungeon
-
Doubleflight
Forest Clearing
-
-
Radiant Garden
Front Doors
-
High Jump
Aqueduct
-
High Jump
Castle Town
-
-
Disney Town
Main Plaza
-
Doubleflight
Raceway
-
Doubleflight
Olympus Coliseum
Coliseum Gates
-
High Jump
Deep Space
Turo Prison Block
Air Slide from the opposite cell.
Air Slide
Ship Hub
Turn off the gravity with the computer and jump from the top to the middle of the room.
-
Never Land
Jungle Clearing
Behind the three, High Jump then Air Slide.
High Jump, Air Slide
Mermaid Lagoon
High Jump + Air Slide from the closest little island.
High Jump, Air Slide
Rainbow Falls: Ascend
Use the fairy dust next to the sticker and let yourself fall down on it.
-
The Mysterious Tower
Tower Entrance
-
Doubleflight
Keyblade Graveyard
Seat of War
-
High Jump, Doubleflight
Fissure
-
High Jump, Doubleflight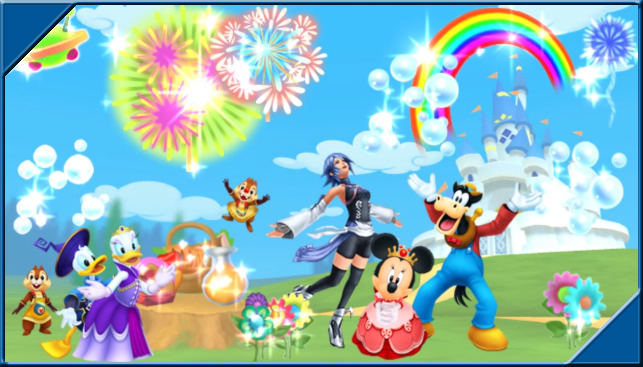 Aqua's stickers collection rewards

| Reward | Type | Points |
| --- | --- | --- |
| Ignite | Command | 20 |
| Shimmering Crystal | Item | 40 |
| Stop Barrier | Command | 70 |
| Deep Freeze | Command | 110 |
| Rhythm Mixer | Command Form | 140 |